Need for analyzing distribution industry data
With diversification of distribution channels due to the development of IT technology, consumer's purchase pattern are changing quickly, making efficient management of budget and inventory, along with prompt decision-making more important. For this, process analysis and innovation utilizing actual data, starting from analysis of customer's purchasing behavior to performance management of promotion, sales management of products and others have become essential elements.
Background of adoption by Company A
With the gradual increase of online proportion among the distribution channels, the proportion of online channel has reached 80%. This signifies that the most important channel where customers come to learn about Company A was online and that improving customer's experience online is the best way of enhancing customer's satisfaction. Company A was putting in a lot of efforts in continuously improving its online channel. However, even if the online channel was being improved, customer's satisfaction didn't increase and inconvenience of the online channel increased in the customer's complaints.
The problem is that it is difficult to respond preemptively by analyzing the customer's entire itinerary and analyzing the customer's inconveniences using the previous analysis method. Improving the customer's itinerary based on the behavior data which directly analyzes the behavior data of customer is a good method. It was important to adopt a new analysis method. Company A resolved this issue by establishing ProDiscovery Solution.
Company A adopted Preventive Action capable of effectively defending customer's convenience in advance and Predictive Analysis which analyzes the root cause of customer's deviation from the itinerary through ProDiscovery solution. Through Preventive Action and Predictive Analysis, Company A achieved visible performances. However, Company A took a step further and wanted to maximize the customer's satisfaction. Preparation for personalization system through Customized Data and analysis of customer's individual analysis is underway.
Data analysis detail technique
The objective of the project was set as User Segmentation, Churn Management and Personalization.
The project was implemented in the order of pre-processing automation (refinement of Web Log Data saved in Adobe Analytics DB into usable form), User Journey Map (visualization of user's behavior flow within digital service based on Activity & Case), discovery of improvement points (identification of problems and improvements by analysis of bottleneck section, analysis of re-work and filtering by customer segment), confirmation of action & performance (comparison of before/after improvement, enhancement of improvement points and measurement of performance following such).
To analyze behavior patterns by customer type, a User Journey Map is deduced from breaking down by customer types (Non-Engaged, Occasional Buyer, Loyal Buyer, Emerging Business, Business Builder)
Identify major behavior patterns and differences by customer type
Improve and deduce new issue items through patterns by customer type and lead time analysis
Improvement of online channel before complaint occurs (Preventive Action)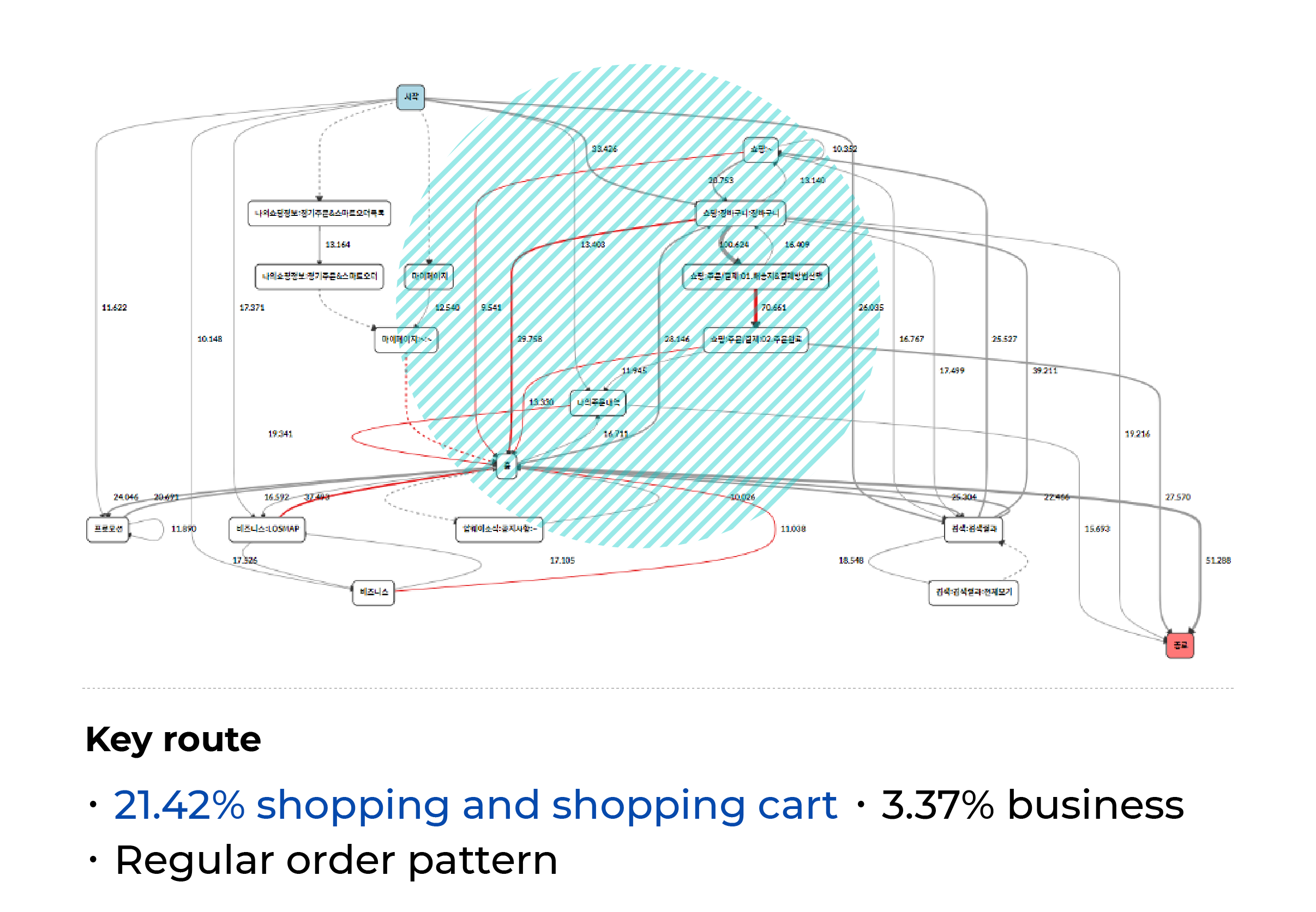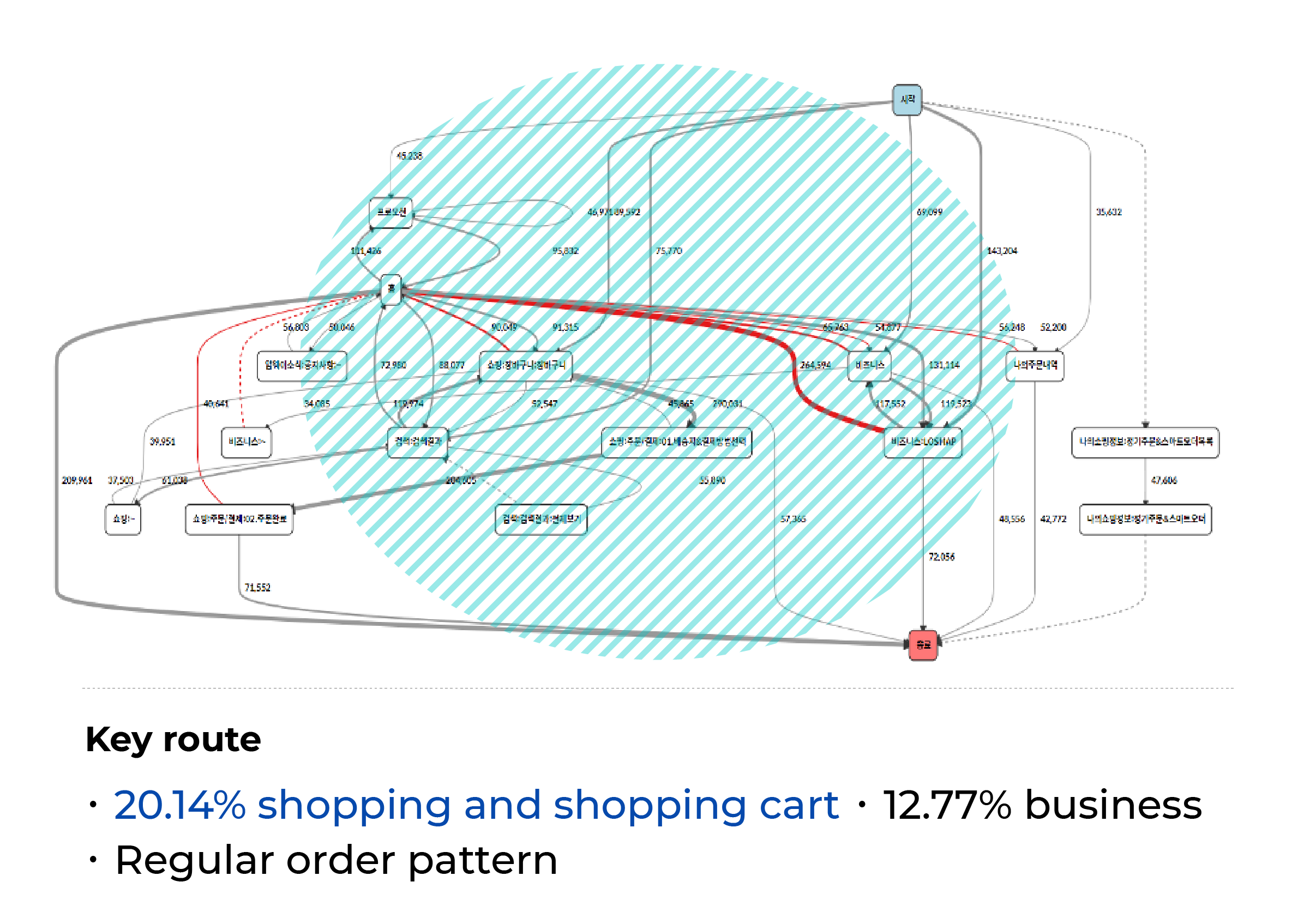 Menu differentiation & accessibility reinforcement
The rate of inflow to business page increased by 31.2% compared to the main reorganization by improving the business inflow route for the convenience of Business Builder type of users.
Product search/order pathway added
Product search and order pathway were added by improving the main contents. Thanks to 'Addition of product's detailed movement path', the number of items added to the shopping cart within the product's detailed page increased by 150% and the number of completed orders increased by 39% and thanks to the 'additional function of Add to cart', 142,256 items have been added to the shopping cart additionally compared to before the re-organization.
Improvement of search function
Product search/order navigation paths are added by improving the search function, which is the most used ordering means in all customer groups. Due to the addition of a navigation path to the product details page, the number of products added to the shopping cart has increased by 150% and the number of complete orders has increased by 39% within the product details page. Due to the addition of the "Add to Shopping Cart" feature, 142,256 additional cases of "Add to Shopping Cart" occurred compared with the period prior to the reorganization in August.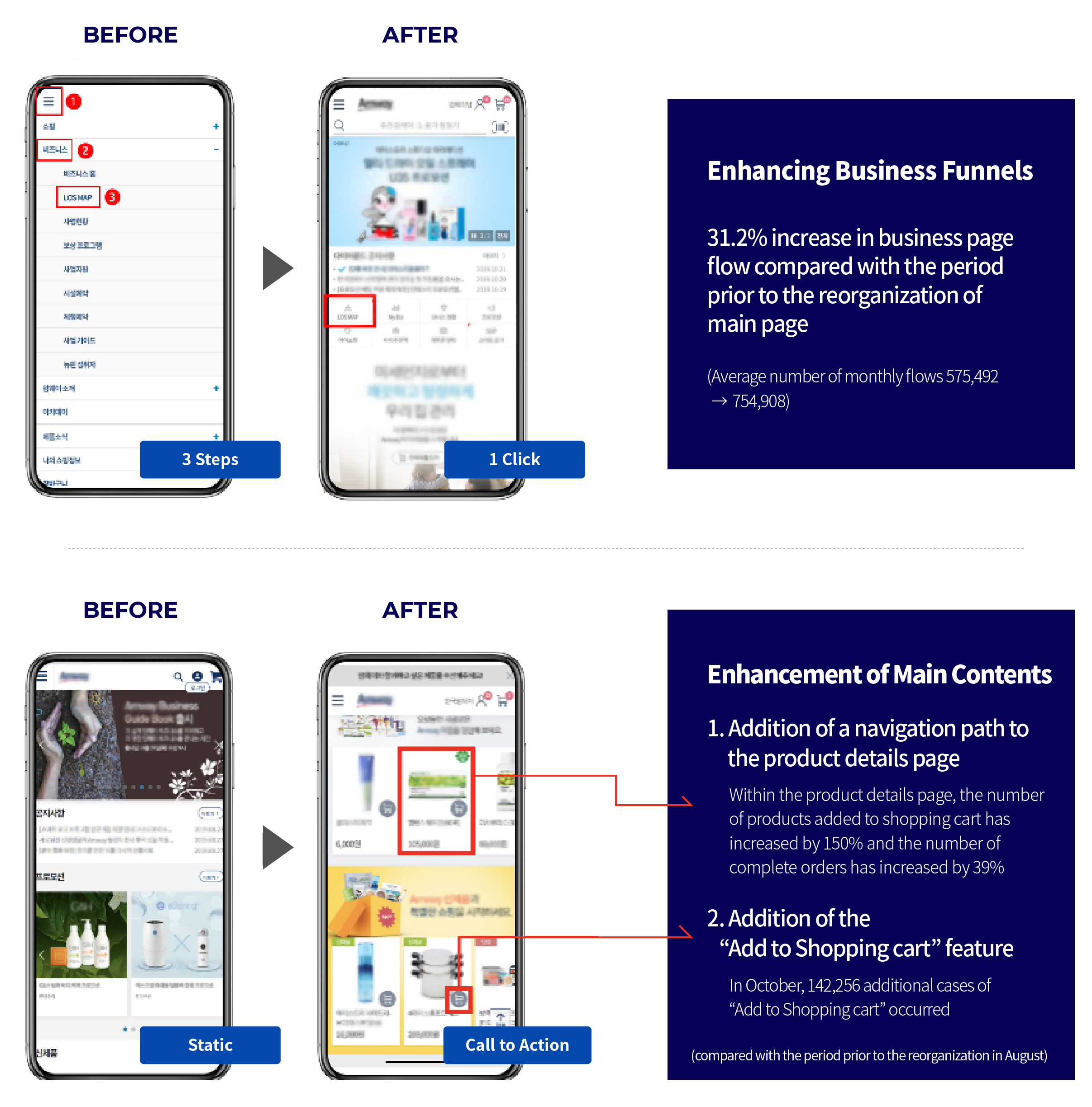 Prediction of customer withdrawals
Deducing behavior pattern of customers who withdrew– Identify and extract key information
Use sampling technique to minimize data imbalance issue
Determine utilization variable using stepwise technique
Predictive Analysis on modeling bounce rate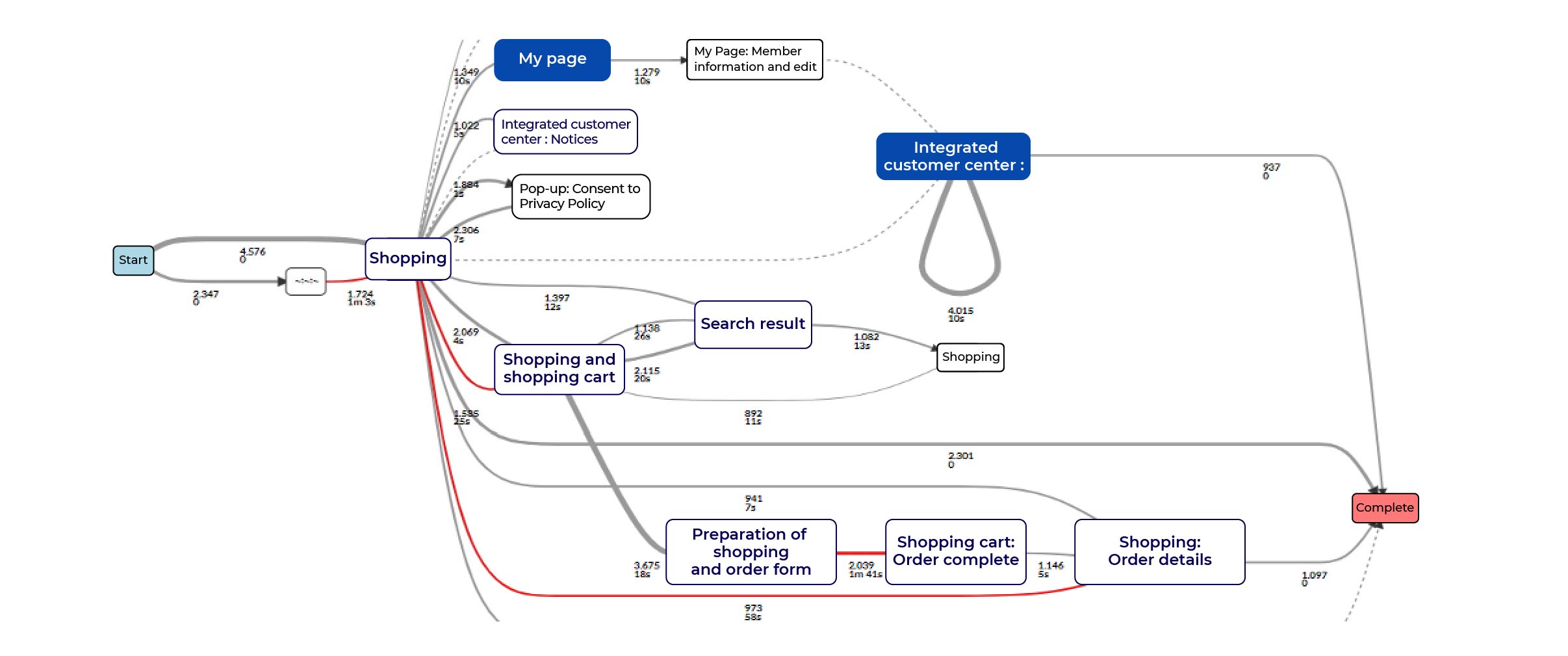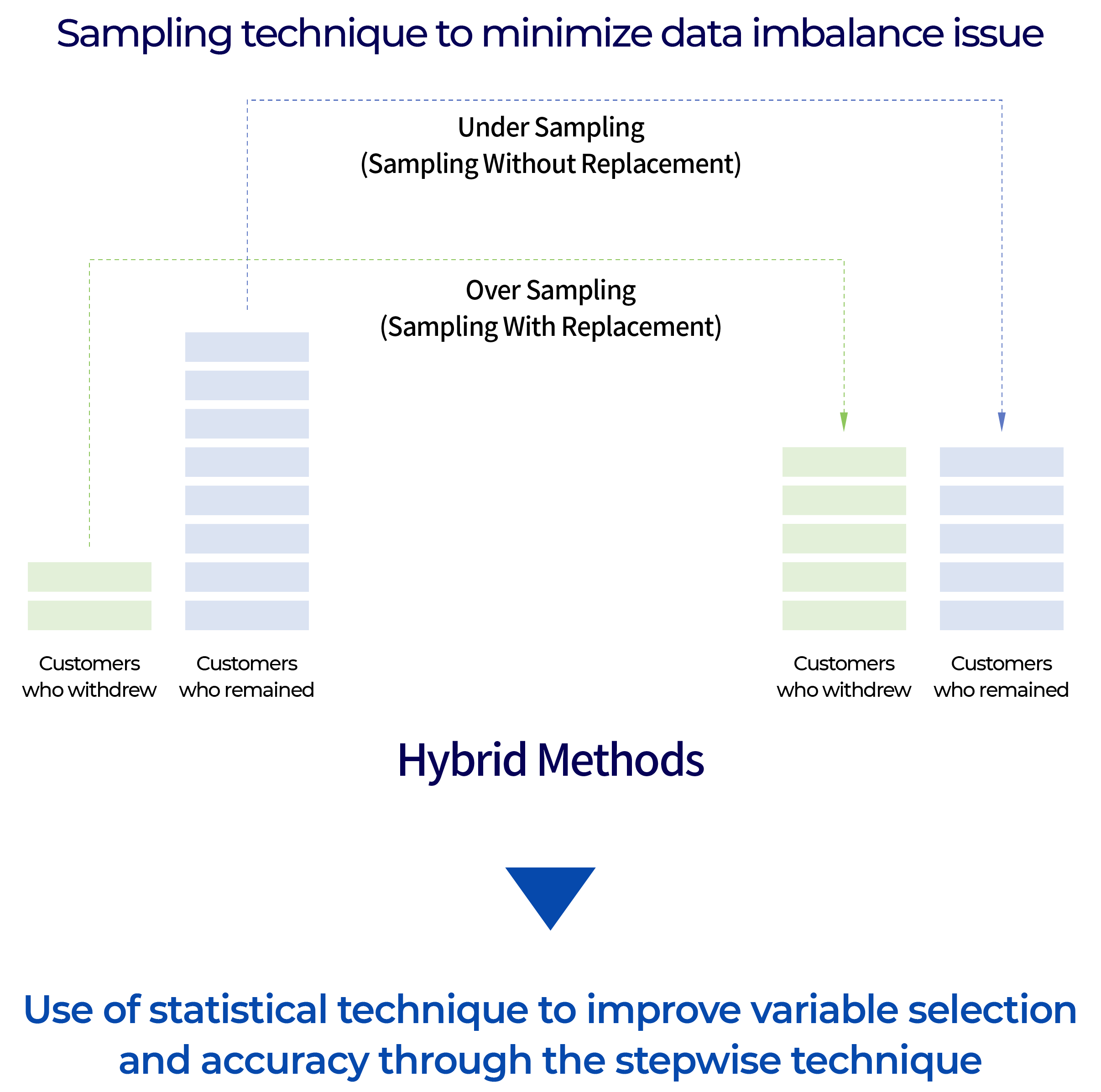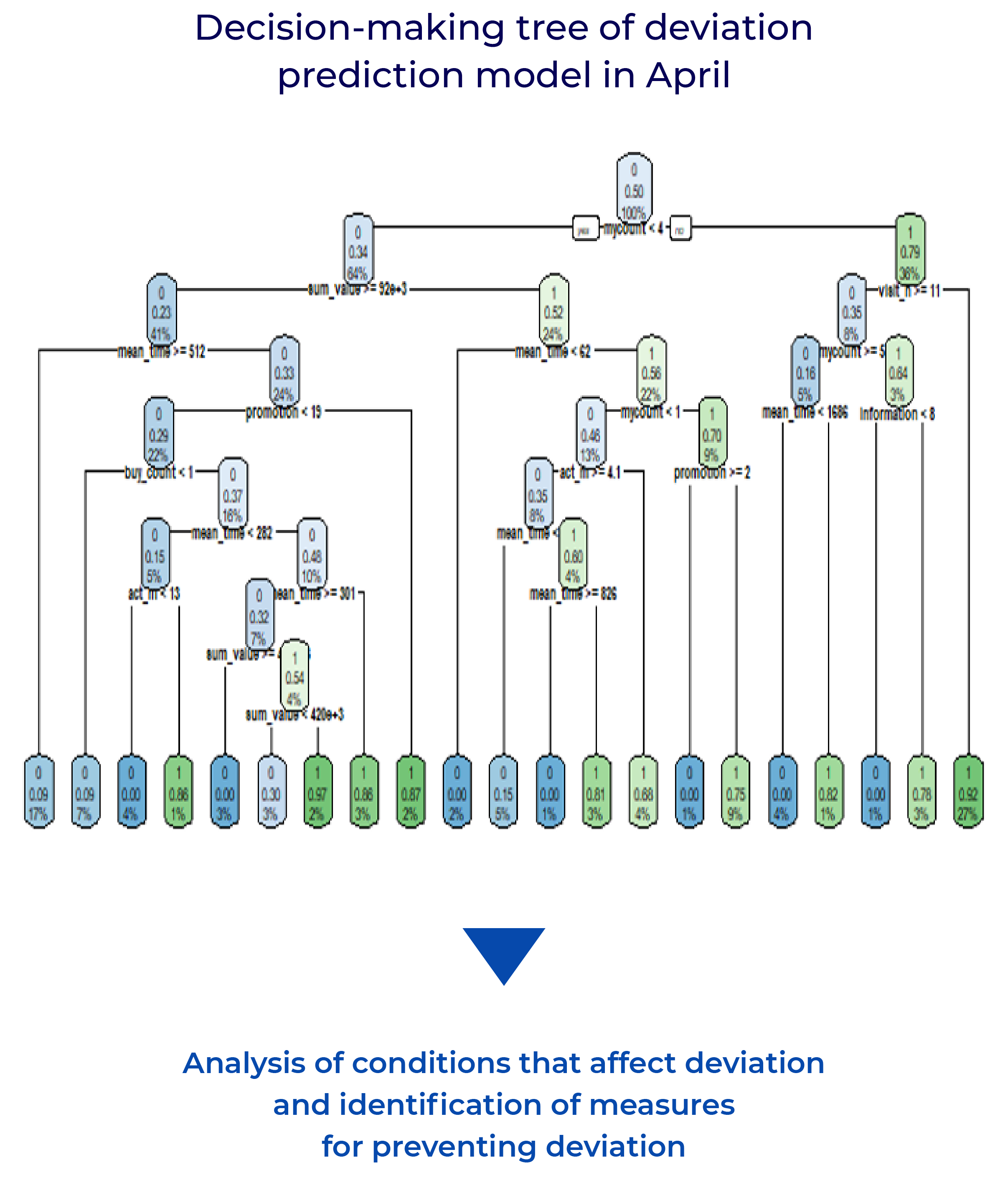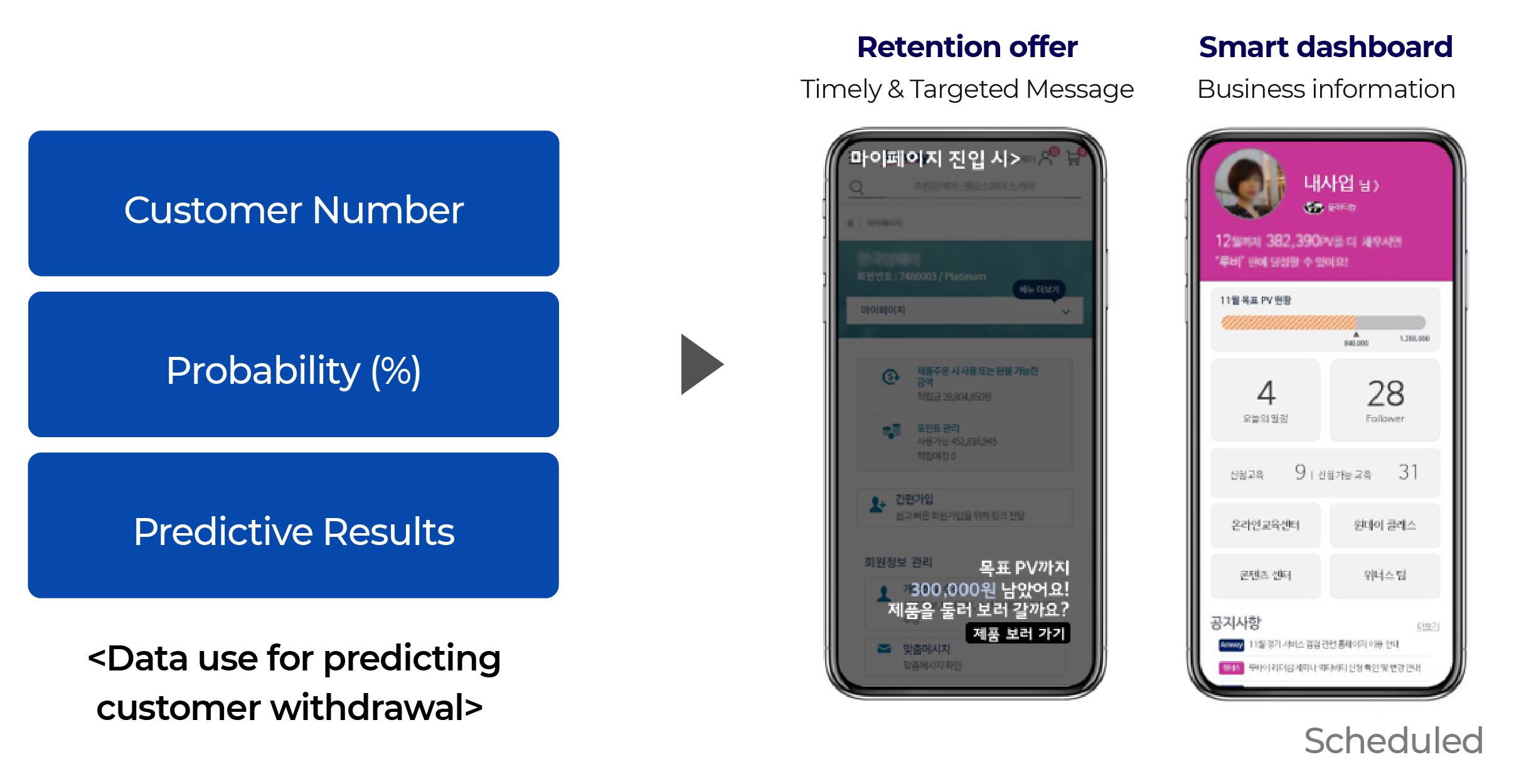 Pilot service recommending personalized products was launched based on product search data within customer's session.
Example of Process Mining application
Improvements are expected to be made by inputting preferred page & product group's data by customer type.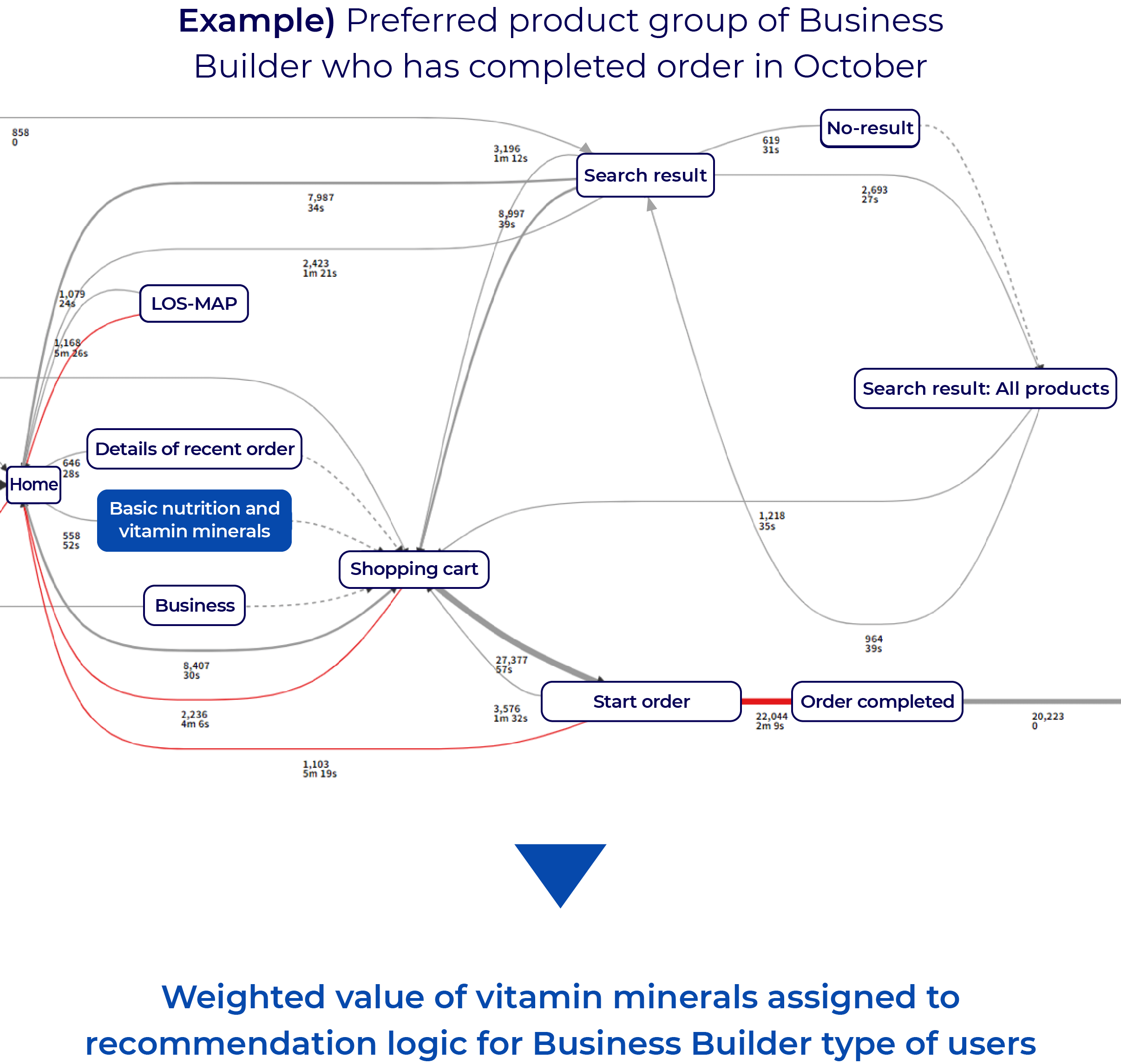 Launching of pilot service to recommend personalized products based on customers' within-session product search data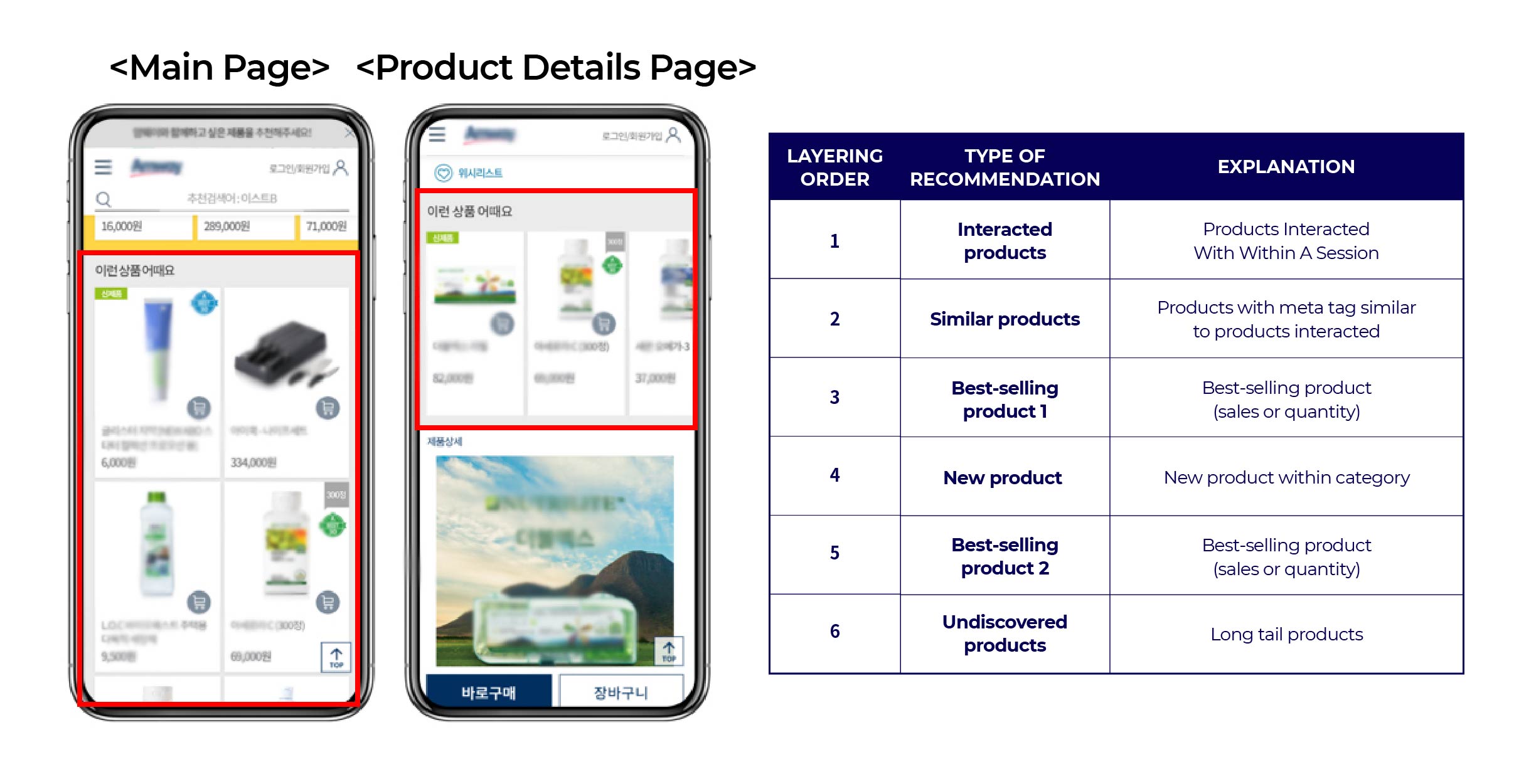 Establishment of Advanced Personalization Process
Enhancement of recommendation accuracy and customized Action concerning target was carried out.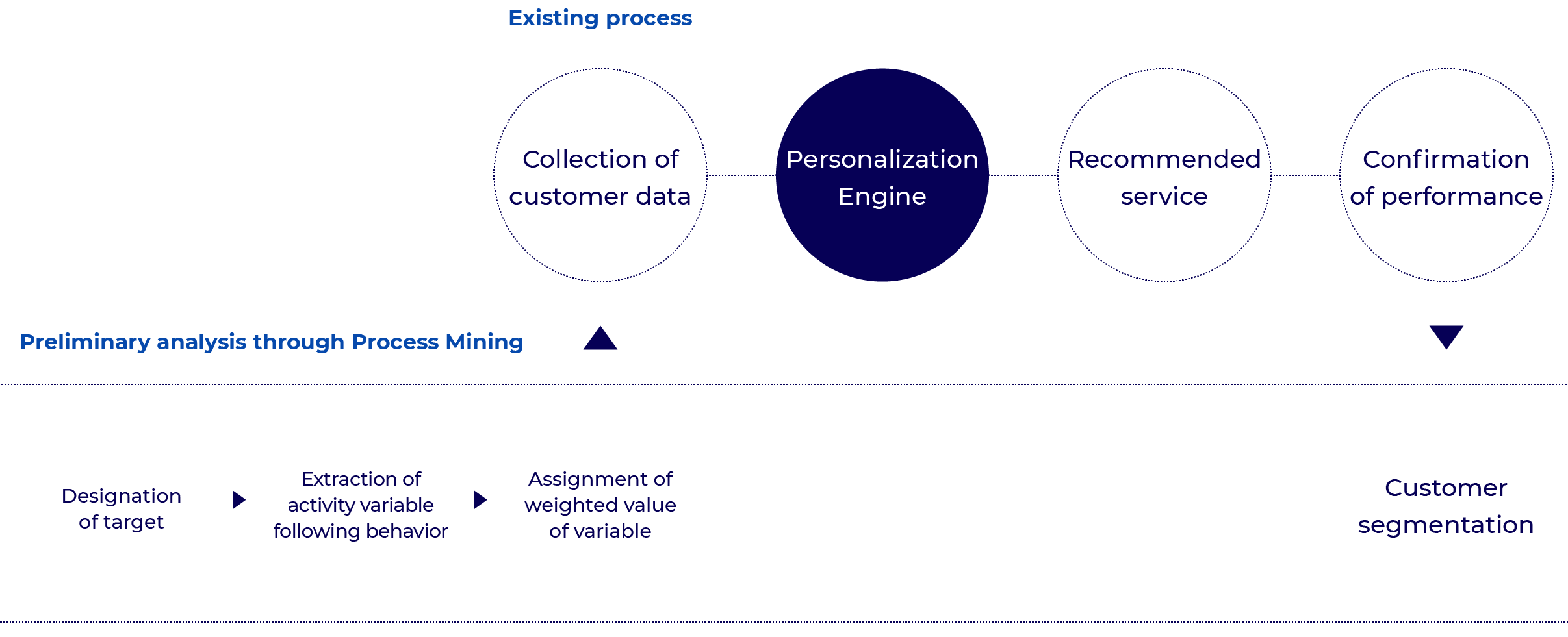 Definite results in terms of statistics can be obtained after re-organization by preceding User Segmentation, Churn Management and Personalization work before website renewal.
31.2% increase in page inflow rate / Lead time of order completion reduced by 2 minutes / 150% increase in items added to shopping basket / 39% increase in number of completed orders
Analysis of characteristics of behavior process of deviating customers and establishment of measures for preventing deviation
Launch of pilot service, recommending personalized products based on customer data