Prominent domestic retail companies
Customer segmentalization through behavior and property analysis of customers that are changing
Previously, activities index of customer such as demographic characteristics or purchase amount and number of visits were usually considered for customer segmentalization. Customers who use online shopping exhibit various purchasing patterns and interests so it is difficult to analyze the characteristics of customers by approaching based on the previous index.
Mobile/app analysis tool is used to analyze the customer's route or schedule or the information on product that customer has shown interest in is utilized to provide personalized services or to predict the customer's behaviors. Although it is necessary to analyze various utilization of information such as keyword and purchased product other than the customer's route, actual analysis isn't being carried out in reality.
Analysis of customer's connection and behavior through process mining
The customer's connection and purchasing behavior can be analyzed through process mining in order to understand how the customer decides on purchase and to determine the key behavior route in online shopping sites. Furthermore, through analysis including purchase result, the key behavior route can be learnt in online shopping sites. In addition, behavior method such as the number of connections by purchasing group and non-purchasing group, movement route and connection time can be analyzed through analysis including purchase result.
The keyword used by customers in shopping sites and the purchase result can be analyzed to conduct customer segmentalization based on behavior and purchasing pattern. The customer's response to events and promotions carried out regularly/irregularly can be analyzed to check the effect by segmentalized customer groups.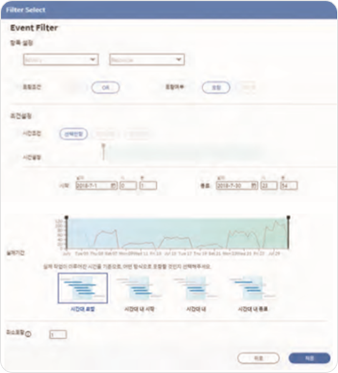 Customer segmentalization and targeting based on customer's
by analyzing the overall online/offline data