Shipbuilding & Offshore Plants

Hyundai Heavy Industries, Daewoo Shipbuilding & Marine Engineering, Samsung Heavy Industries
Enhancing Manufacturing Productivity:
Reducing Delays and Improving Resource Utilization through Process Analysis​
Although massive manufacturing data is being accumulated through system related to ERP, MES and POP that support the manufacturing process, efficient analysis is not being carried out. There is a big difficulty in data analysis and creation of report on results.
In the shipbuilding and offshore plant industry, the execution of large-scale projects simultaneously poses significant challenges in analyzing the current status of process progress and workload. In addition, when process progress faces delays, it becomes even more difficult to analyze the mutual relationship between production plans and performance data, as well as to identify the root cause of delays​.
Process analysis based on process mining
The manufacturing process for each product (case) can be analyzed by examining its process pattern. Basic analysis, including key statistics such as event count and work time, helps understand process characteristics. Transaction logs are utilized to identify the process model, considering task relationships.
The Dotted Chart approach based on process mining enables various analyses, including process pattern analysis, process model analysis, performance analysis, and social network analysis. Through this approach, we gain insights into the process model, workflow, and interactions between workers, departments, and equipment involved in the manufacturing process.




By employing process analysis based on process mining, we can identify the process model and pinpoint bottleneck points using process plans and performance data. This helps us check for rework processes and make necessary adjustments to the planned schedule in case of any delays.​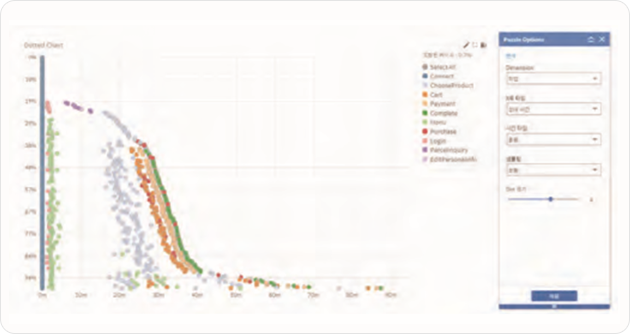 Have an inquiry?
Get in touch with us.