What is financial industry?
In a big frame, the financial industry can be considered as a service industry such as bank, securities and insurance. Thea areas in which process analysis can be carried out in this industry are employee's work, customer service and online platform (DT). The ultimate objective is to improve customer's experience and improve work convenience in the sales branches and departments in the head office by analyzing the customer's behavior patter and employee's work process.
Background of applying processing mining by domestic major banks
There were 3 problems that had to be resolved by customers through process mining. One, it was to automate the work process of employees to comply with the 40 working hours a week policy and to make work more efficient. Second was to recommend customized products and minimize inconveniences in order to provide customer-centric services. Lastly, it was to check the behavior pattern of untact customer inflow within the web which was carried out as part of the Digital Transformation initiative and to improve UI/UX of procedure for new product subscription.
Data analysis detail technique
The Golden Rule for customer management and improvements were identified through analysis of work process by bank counter and analysis of customer's behavior pattern before and after re-deposit of investment products then applied to work.
Course of analyzing the work process of bank counter (1/2)
As a result of visualizing the work process by counter through process modeling, the screen movement pattern and repetition of work were confirmed. The works concerned took up a high proportion in places with overtime work compared to the entire sales branches.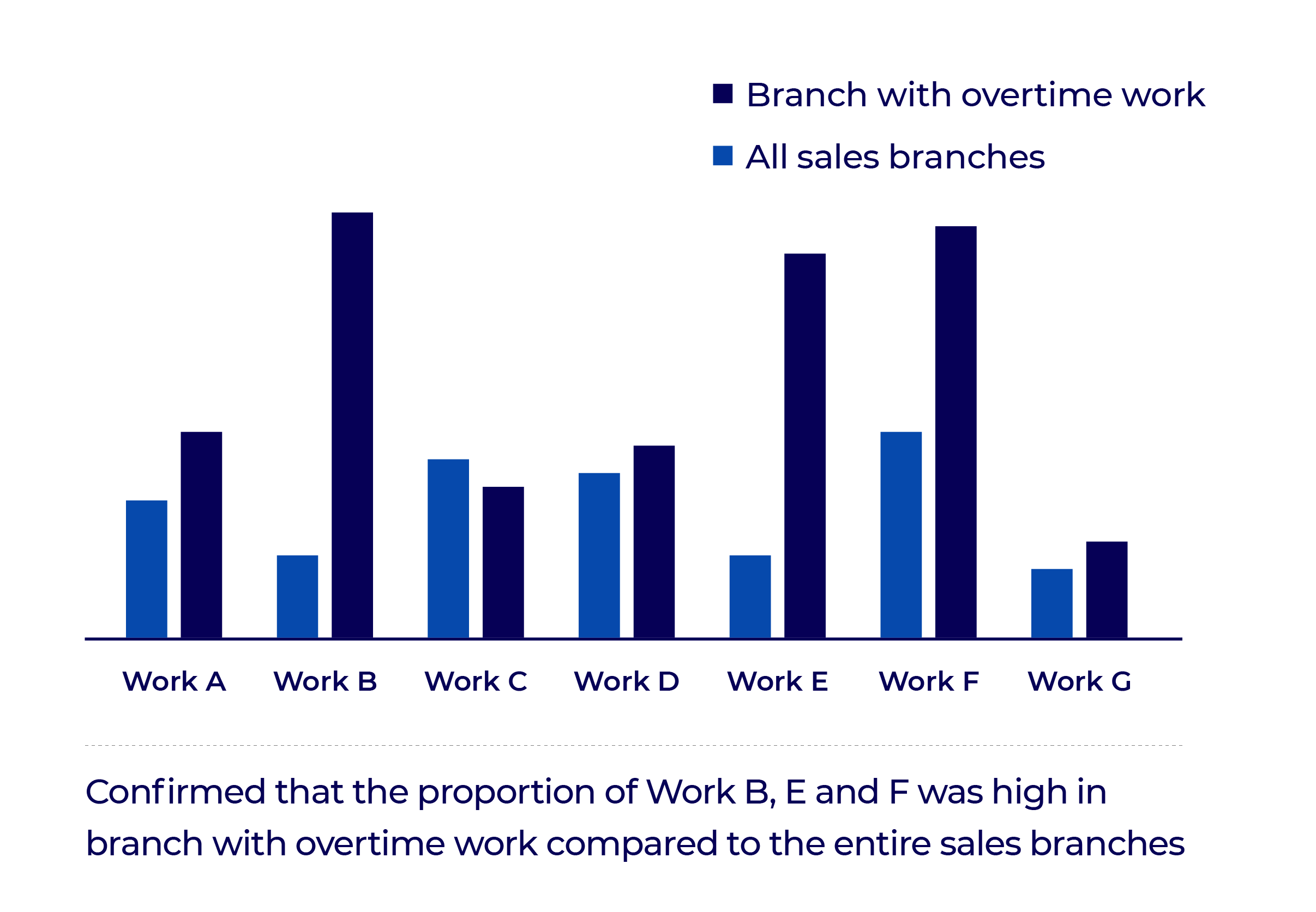 Difference in work proportion between branches with overtime work and all sales branches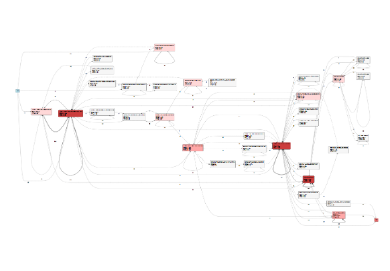 Identification of work process by counter
Course of analyzing the work process of bank counter (2/2)
33% of work that takes up a high proportion in the branches with overtime work was repetitive work
The work concerned took a long time compared to other work
Confirmed the tendency of which the occurrence frequency gradually increased until leaving the office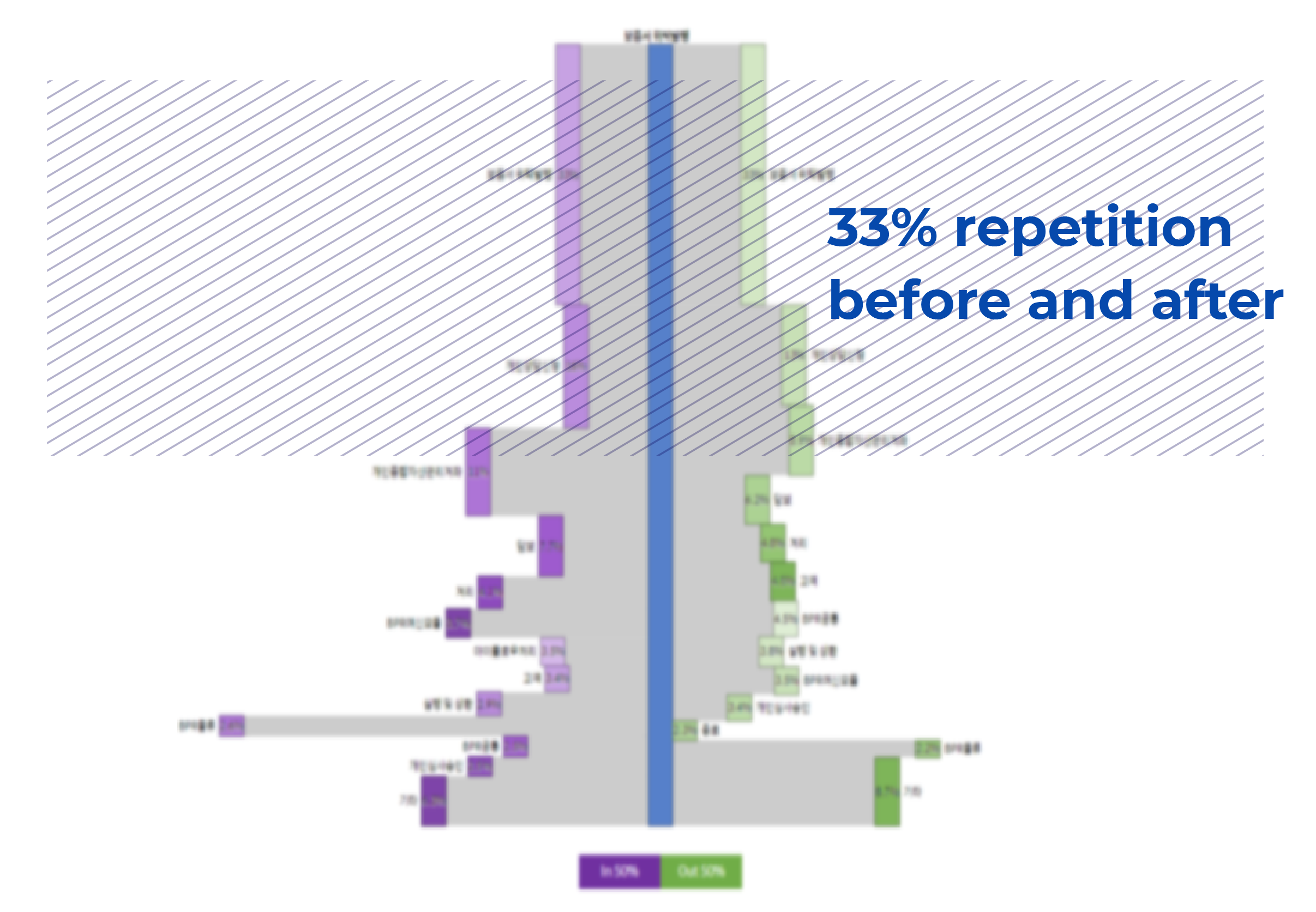 Process before and after work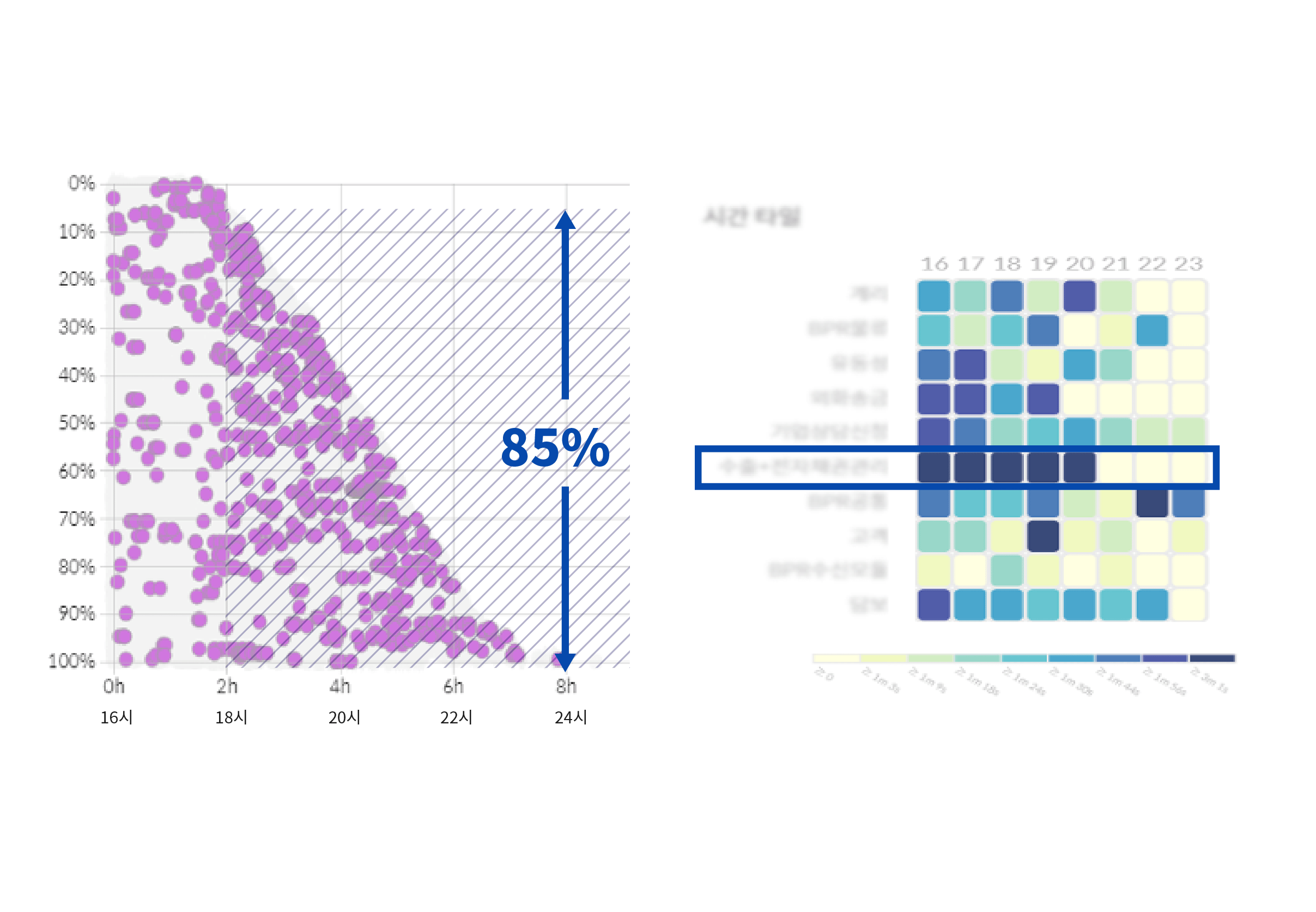 Result of analyzing work process of bank counter
The work concerned was deemed as improvement by considering the process map and analysis result and the UI/UX was improved to simultaneously enable selection and input of products from the screen where action plan concerning TO-BE was planned → Number of screen movements, number of repetitive work, work hours expected to be reduced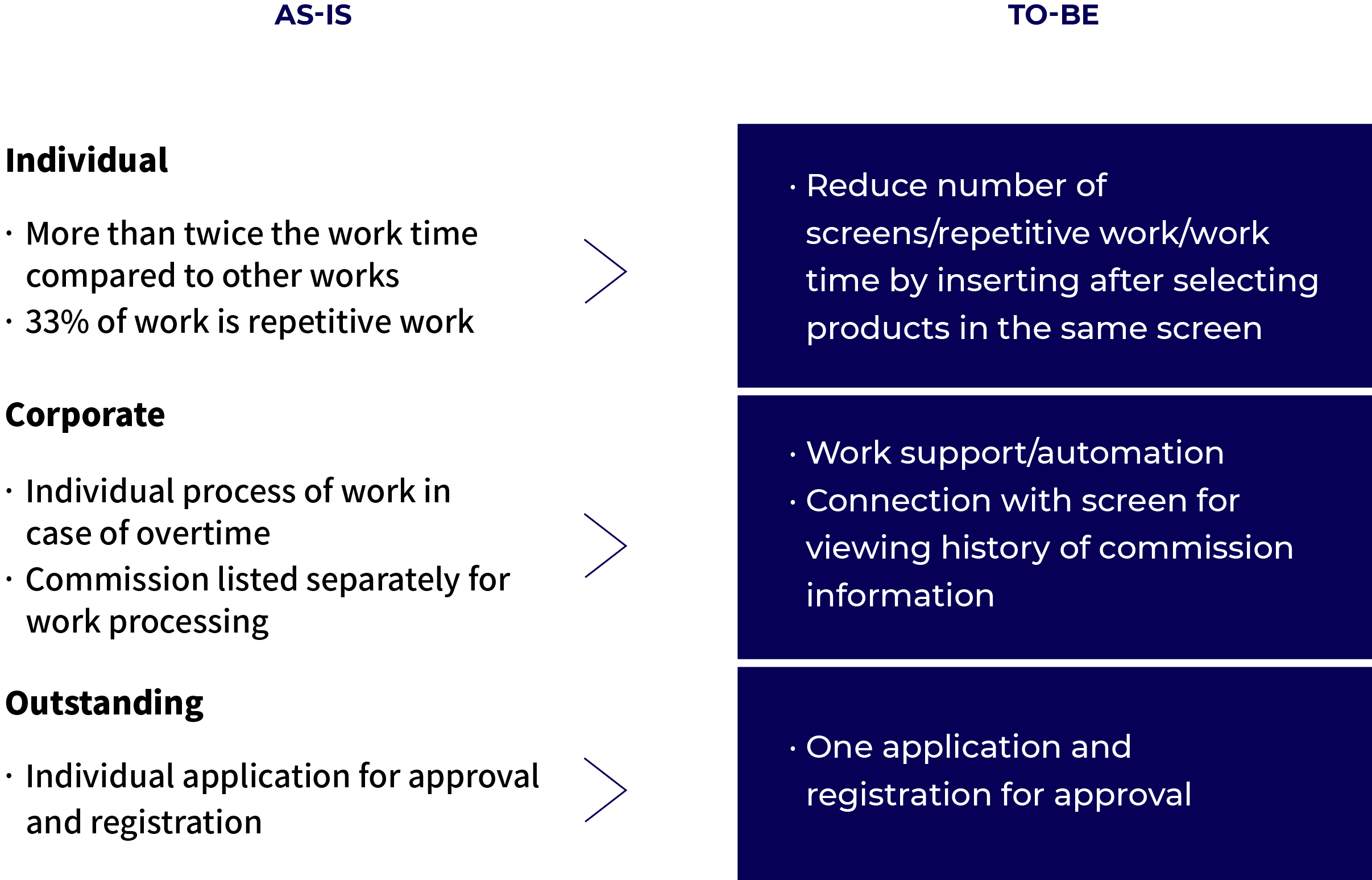 Course of analyzing behavior pattern before and after re-deposit of investment product
Analysis of re-deposit based on event
Upon analysis of re-deposit of investment product based on event, the analysis result was:
Different in maintenance rate depending on whether notification on early repayment was made: 13.2%p
Difference in re-deposit rate when more than 2 notifications have been given on early repayment: 19.8%p
Difference in maintenance rate when an employee from the sales branch called to notify on early repayment over the phone: 9.2%p
→ It was confirmed that notification on early repayment was effective in increasing re-deposit and that the maintenance rate could differ depending on the frequency and contact method
Process comparison for preventing deviation
Result of analysis using process map:
Pattern of continuous customer: Led to re-deposit after notification of early repayment via telephone
Pattern of deviating customer: Viewing of termination expectation through bank app or Internet banking before deviation or viewing of product mall after deviation
In case of auto termination registered account and non-registered account, identification of whether notification of early repayment n days before customer termination is effective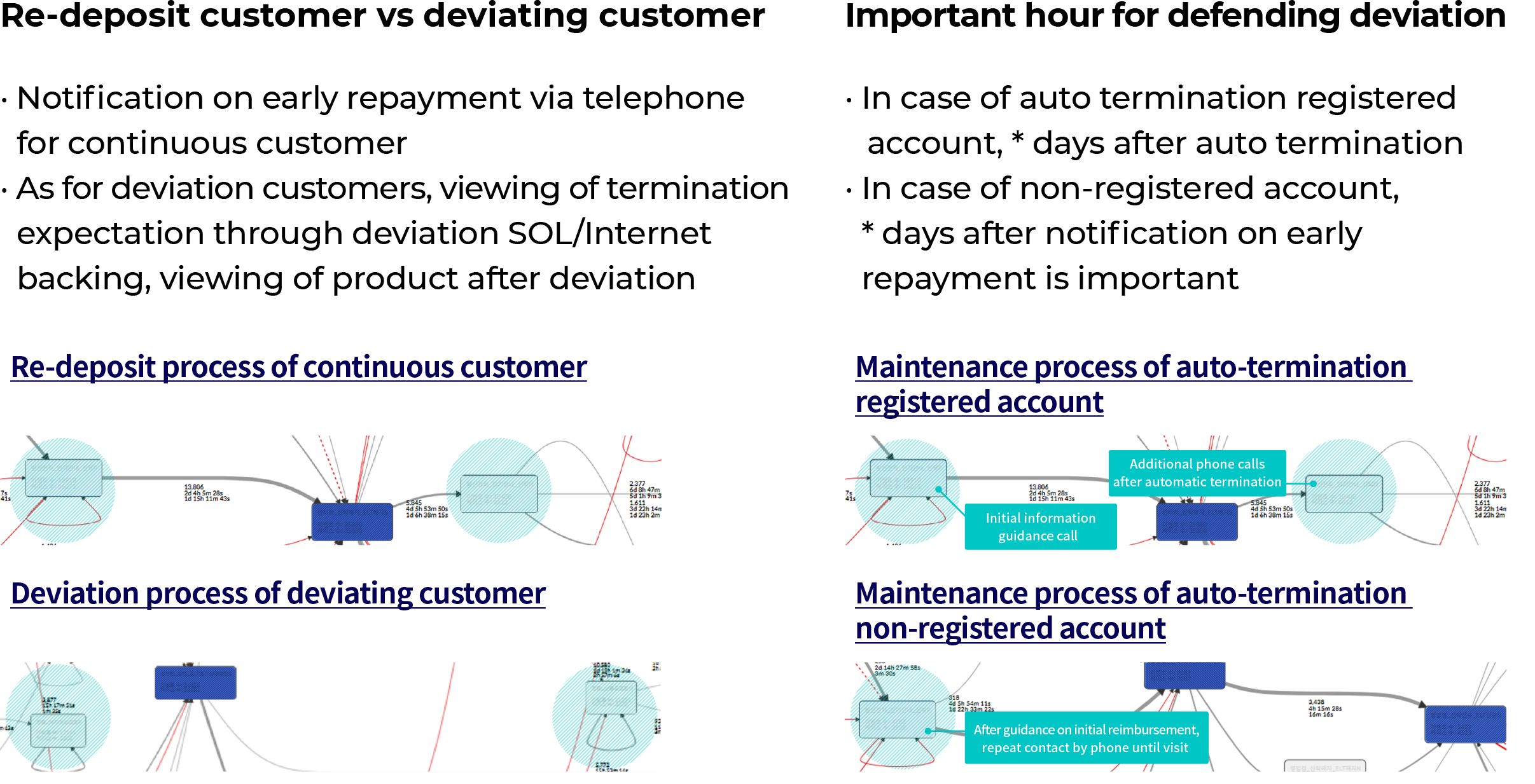 Golden Rule of re-deposit of investment product
Creation of Golden Rule for re-deposit of investment product by considering the pattern of re-deposit customers and termination customers, number of notifications on early repayment, contact method and others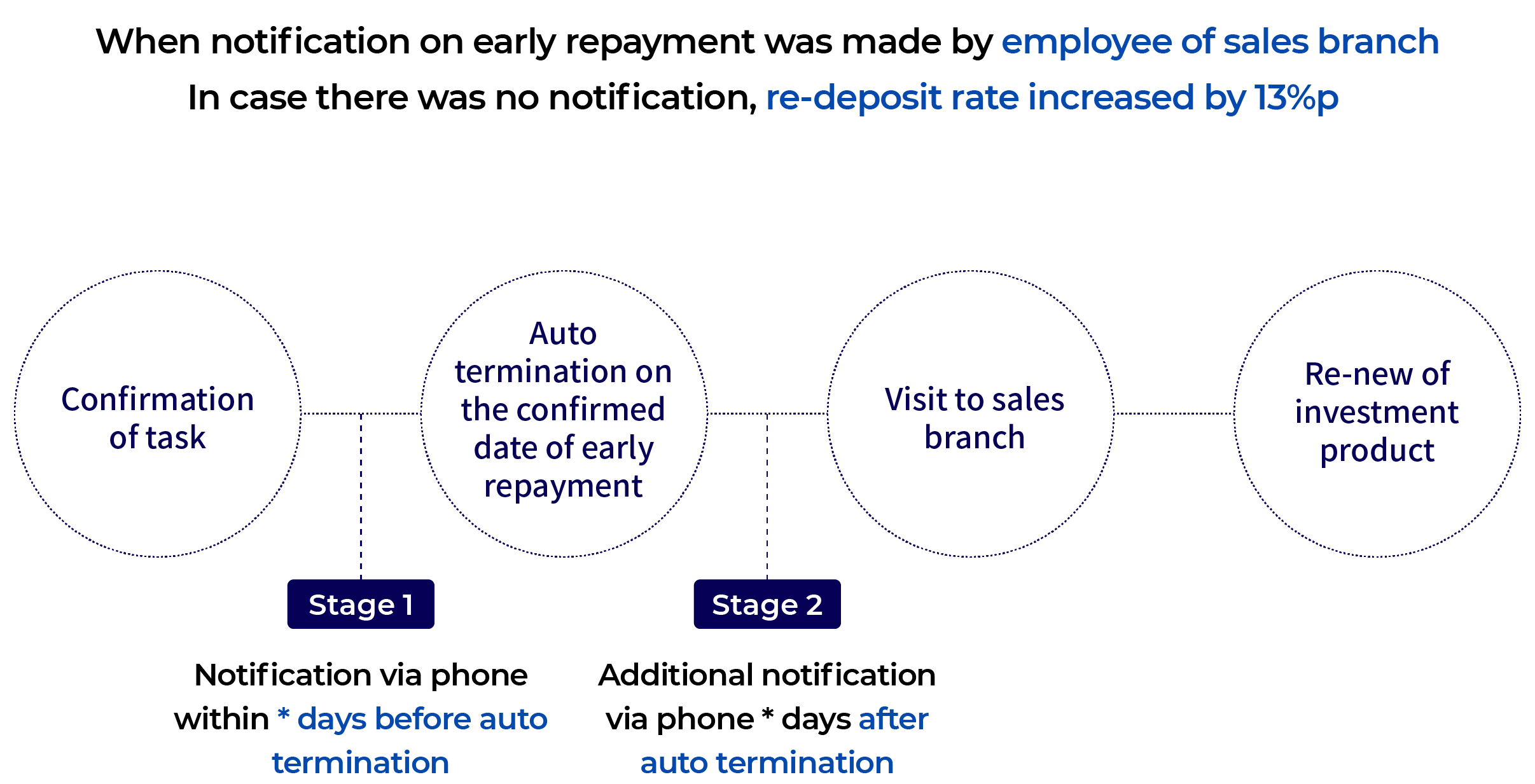 Improvement of customer experience and work convenience of employees in sales branch and departments in head office through analysis of customer's behavior pattern and employee's work process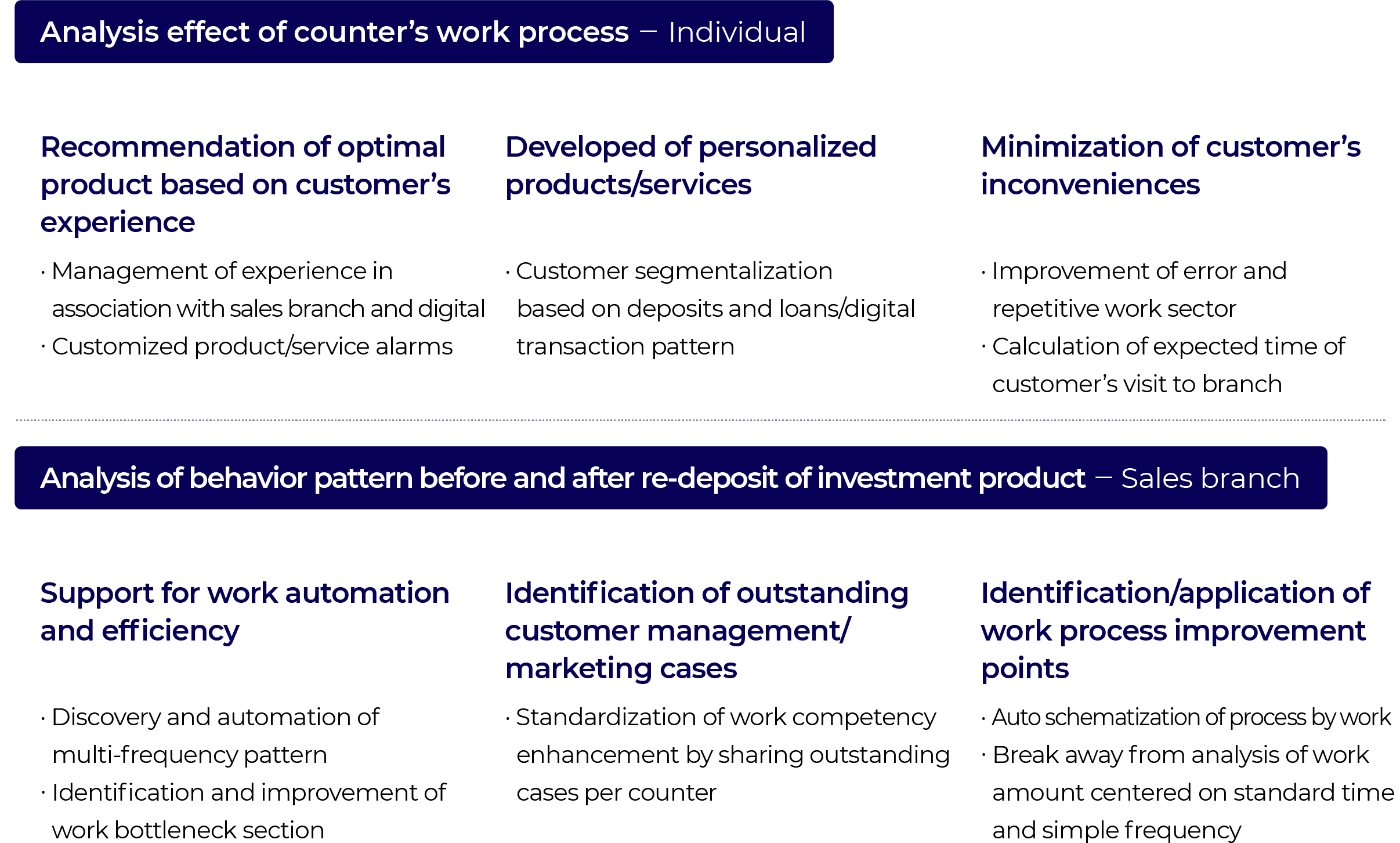 Reason for selecting Puzzle Data's ProDiscovery in major financial companies in Korea
It is a solution that can schematize and analyze process concerning the overall event logs of face-to-face or untact channel or work system.
By utilizing the process mining technique, work process pattern / overlap / repetition / bottleneck section can be analyzed and the actual time taken can be utilized.
Internalization of analysis competency and identification as well as application of insight are possible through execution of analysis tasks.